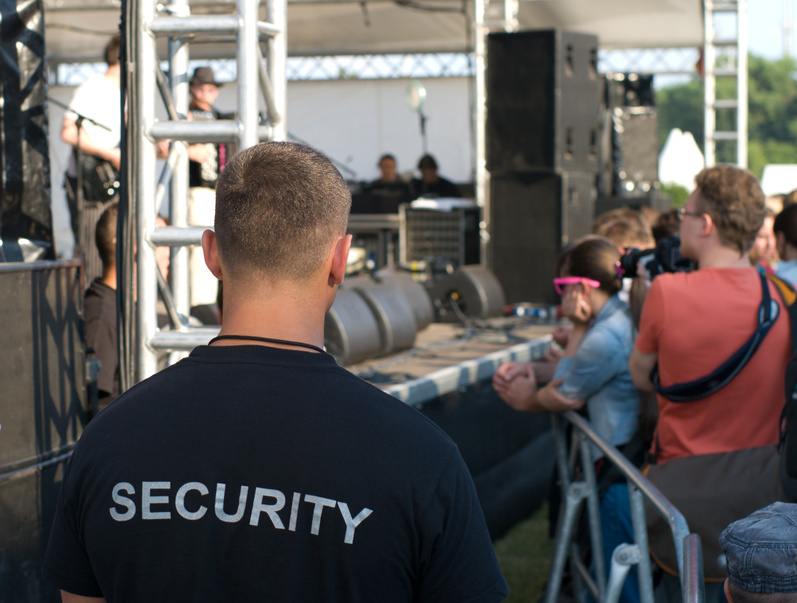 Event Security Services & Stewards Bristol UK
Sureguard provide professional event security guards and stewards for all types of events in Bristol & across the UK from festivals to small private venues, no event is to large or to small.
How many event security guards & or stewards do I need?
This question is often raised by event organisers when hiring event security, crowd management and safety staff.
Some organisers may opt for the cheaper option and rely on a good ratio of security to patrons. For some, it can be challenging to establish the number of security staff required, to balance cost, satisfy legislative requirements and manage the security risks the event may be exposed to.

It is however imperative that organisers get this right. As an event organiser you need to plan for all situations, of which can be better managed with appropriate levels of well trained, uniformed staff as an invaluable resource for the full spectrum of issues that can occur.
There are some key factors that need to be taken into consideration when establishing the number of security staff required for event security. These include, but are not limited to:
Type of Event:
Is it a festival attracting young people from around the world, a sporting event with two fierce rivals competing, or a family focused event spanning all age groups? Is the event indoors, outdoors or a mixture of both? Is the event free or ticketed? If it is ticketed, has it sold out, or is it likely to sell out? If it is a free event? What has historically happened if this is a yearly event ? Is the event in an engineered purpose built facility, city centre, or greenfield/urban site? Is the event layout the same as previous years or has it changed? Are parents likely to be dropping off and collecting their children? Does the event have high value goods as part of the overall event? Is there camping on site and is the event over multi days/nights? What kind of ticketing system is in use and are wristbands required to identify legitimate customers?
Crowd Demographics:
What is the age group attending? What is the male and female split of the audience? Are there any historical incidents with this crowd? Can you expect audience members to travel from other parts of the country or from other countries? Different crowds require different staffing needs and requirements.
Staff Responsibility:
What are the license conditions for your event? What requirements are placed upon you in terms of external areas? Have roles and responsibilities been clearly
defined and are they understood by all stakeholders? Are there sufficient levels of staff to fulfil the roles and responsibilities, when considering the venue, event, crowd profile, artistes etc? Are there a wide range of areas with restricted access, queue management, bar areas, front of stage barrier systems, VIP areas, backstage, emergency routes etc? How many response teams are required and what area have they got to cover? What is the event duration as staff may require breaks to conform to legislative requirements, extreme heat, humidity and cold etc?
Venue Size:
Is the venue adequate in terms of space after temporary structures, concessions, sponsored attractions, merchandise, fencing and front of stage barriers?
Is there sufficient space available for ingress, circulation and egress? Has arrival and departure been considered in the crowd management plan? Does the site layout allow for good circulation or pockets of increased density? Do the crowd flows reflect on the number of ingress points and lanes the venue can provide? Are there sufficient exits considering the risk profile, event duration and flow rates? What is the topography of the site and how is the ground underfoot? Is the site intricate, with a number of sub areas, or is it a clear open space with clear vantage points for monitoring?
Quality of Staff:
How many other events are the security company committed to that day or night? Is the company big enough to manage your event? Do they sub-contract staff and if so, what is the quality of the subcontractor's and how much experience do they have? A smaller, more experienced group of staff will serve you better than a lot of new starters who need more supervision. What is the ratio split of managers, supervisors, security and stewards and ushers? Do you know the management and supervisors who will be working at your event?
Ratios of Staff:
In my own personal experience of managing security at a wide range of major events around the world, the notion of ratios is far too generic and inaccurate.
Each event must be assessed on it own merits and specific idiosyncrasies, by competent people in consultation with event security providers, artistes representatives, promoters, site managers, local authorities, the venue, police, etc. The ticket sales will always impact staffing levels but despite this, there should be an agreed staff level that serves as a skeleton requirement no matter what happens. Staff levels should be dynamically assessed as more information becomes clear. In terms of staff quality, event organisers should be clear in what they expect from their security provider as this can differ enormously. Staff briefings are an essential component for any event and should be supported by an effective command and control structure within the organisation. There is little point in having 20 supervisors and 10 security staff. Likewise, there is no point having 1 manager and 40 security staff without supervisors. Security staff should be readily identifiable with individual ID numbers visible that relates to the person wearing the uniform.
To find out more contact us today on 0117 2510081