Emergency Boarding Up Services
Our Emergency Boarding Up Services is a quick and efficient way to protect an empty property.
Sureguard have been providing boarding up services front of house security and security guard services for events, businesses and industry for many years.
Problems with empty property can escalate very quickly. A broken window can lead to further vandalism, access into the property and possible squatting unless appropriate action is taken quickly. Secure Empty Property installation teams provide rapid response to minimize risk – nationwide.
This ranges from security door and window installation through to alarm response 24-hours a day, utilizing satellite tracked vehicles. However, we take this further by providing a rapid response to customer inquiries, site surveys and security proposals to ensure that we can react to your specific requirements.
Our wooden, steel and perforated screen present a range of options for boarding up your empty property. The boards act as a deterrent, making it obvious that the property is actively being protected. Boarding up also actively protects the property and the public in the event that a window or door is damaged.
Steel Security Doors
Key features Include:
SEP Anti-vandal specification 1.2mm galvanised/powder coated steel construction with 2mm frame
Anti-jemmy hinge bolts and frame lip
Additional modular fan and side lights to cover the entire opening if needed
Allows full width access and removable door skin
Existing entrance door can be retained in place
Minimal damage with four flexible fixing methods
Security Doors Used By Boarding Up Services
The most popular door option features insurance approved, two five-lever mortise locks with unique differs for Secure Empty Property. Doors can be suited to client requirements including the same key for all doors, different keys for each door or two keys for each door. Lock replacement is available if keys are lost or current key holders need to be barred from access to the property.
Modular & Perforated window screens
Secure Empty Property supply and install a variety of steel security screens for hire or purchase.
Designed to suit a range of budgets, security requirements and property types.
Modular 1.2mm
galvanised/powder coated steel screens can be installed up to vulnerable first-floor level – usually in less than an hour and often the same day. Modular steel screen sizes have fixing points over their surface and utilise a variety of fixing techniques dependent on the type of property, steel studding or cable, are affixed by bolts or ratchets to internal bars in
side the property. The modular screens 'sandwiches' the window opening removing the need for damage to window frames and often the need to de-glaze.
We also have the option for circumstances such as, demolition / long term hire/ sale or budget, bespoke cut reveal fitting galvanised 1.2mm perforated steel sheet cut for the window reveal size and installed with our own unique security screws.
Our Boarding Up Services Use Plywood Boards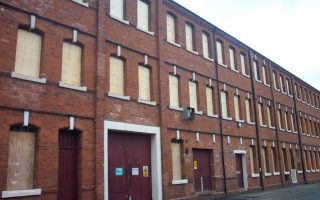 Offering a highly visibility and secure deterrent, plywood boarding up screens can be made to fit any access point. They are suitable for short term and long term security.
Steel security screens don't always offer what you need to secure your property, plywood boarding screens are a solid alternative suitable for a range of scenarios:
To cover/protect a door ow window following an accident or break-ins;
To provide security on a short-term basis when a property is between tenants or owners;
To protect an unoccupied property while construction work is taking place inside.
Offering a fully customizable cover-up solution, using our plywood boarding up service can be made to measure for a full range of access points. Providing a flexible solution for empty properties at all stages of construction or demolition.
Our priority is ensuring your vaca
nt property is protected, however, we ensure that screens are fully secured to remain in place for as long as necessary. We also ensure that no additional damage is done to the building as a result of temporary boarding, for example when covering temporary glazing damage.
Interested? Contact our experienced and friendly team and we can have your property secured in hours.
All operatives assigned to reception or concierge roles have been full trained and have been through the full SIA training and have recieved there SIA qualification and license as required by law.
Our current client portfolio includes the public and private sector and we are able to supply a range of specialist roles, contact us to find out more
All our staff are supplied in a range of high quality smart uniforms or corporate suits that represent your brand whilst, at the same time, identifying us as a security presence.